RIP: Original Barnabas Collins of Dark Shadows, Jonathan Frid

by Shock Till You Drop
April 19, 2012
The man who played the original Barnabas Collins on the ever popular Dark Shadows series, Jonathan Frid, has passed away at the age of 87. According to Digital Spy, he died of natural causes.

The actor's final acting credit was the forthcoming Dark Shadows film, by Tim Burton, in which he has a cameo. Frid also appeared in The Devil's Daughter and Seizure.

He will be missed by a legion of Dark Shadows fans.
Here's a link you may want to check out if you're further interested which I won't copy & paste the article right now:
http://www.fearnet.com/news/b26083_rip_original_dark_shadows_barnabas.html
I'm a big Dark Shadows fan & was first exposed to it as a young boy when it actually aired which is 'dating' myself but anyway. It aired as reruns on the Sci-Fi Channel back in the 90's but I don't know what happened to it there now.
Jonathan Frid was by far the best Barnabas Collins!
Part of my concern is the upcoming
DARK SHADOWS
film, directed by Tim Burton & starring Johnny Depp in the lead. Here's some pics of Frid as the vampire: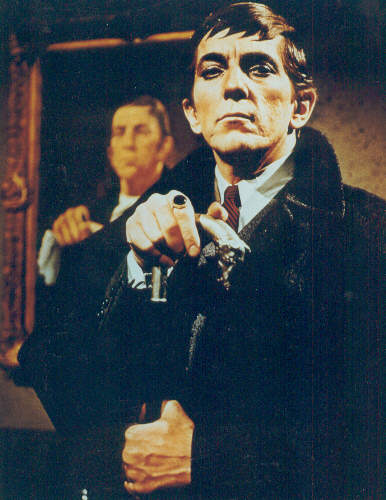 I don't know why that 2nd pic is so large. That's also from a magazine that was a personal favorite of mine. Byt
why
am I so concerned? Well, I've wondered about this day for some time because I knew he was old & heard very little about him anymore. I hate that he passed but the thing that's
really
had me concerned lately is the new film. It appears that Burton has turned it into somewhat of a
SPOOF
. To me it's like saying 'Scary Movie' if you get the analogy. Now, I don't think it's quite
that
campy but here, judge for yourself:
And for contrast, here's a couple of clips from the original TV series that I just quickly found without doing much research:
It's hard to beat the original! It wasn't perfect but for a 'horror gothic soap opera' I haven't seen it bested yet, not even by newer versions. And Frid
literally
saved the show from cancellation & turned it into a hit! Yet Burton seems to be presenting his remake as a spoof or a satire or something. It still looks interesting but weird & has Tim Burton written all over it.
And here's another concern about the new film:
It's release date is 5/11/2012.
Exactly one week after THE AVENGERS!
You'd think the studio would've known better than this, no?


non_amos

Christopher Reeve





Posts

: 2305


Points

: 2717


User Reputation

: 250


Join date

: 2010-10-16



It is sad news, on the eve of the film. My mom loved the show.. I myself caught reruns from time to time growing up. So many famous folks died this week.

webhead2006

Missing In Action





Posts

: 4344


Points

: 4854


User Reputation

: 2


Join date

: 2010-10-16


Age

: 33



http://www.bleedingcool.com/2012/04/21/johnny-depps-tribute-jonathan-frid-who-has-passed-away-aged/
Johnny Depp's Tribute To Jonathan Frid, Who Has Passed Away Aged 87

Written on April 21, 2012 by Brendon Connelly in Film, TV

Jonathan Frid was TV's beloved Barnabas Collins, starring in the offbeat supernatural soap Dark Shadows from 1966 until 1971. He has passed away at the age of 87.

In less than three weeks, Frid will be making his last screen appearance with a cameo in the Dark Shadows movie.

Rather than writing something myself, I want to pass along the tribute paid by Johnny Depp, the new Barnabas Collins.

Jonathan Frid was the reason I used to run home from school to watch Dark Shadows. His elegance and grace was an inspiration then and will continue to remain one forever more.

When I had the honor to finally meet him, as he so generously passed the torch of Barnabas to me, he was as elegant and magical as I had always imagined.

My deepest condolences to his family and friends. The world has lost a true original.

More than ever, we will be looking to Depp and Tim Burton to honour cherished memories.

Goodbye, Mr. Frid.

_________________
BJ Routh and Bryan Singer WERE the worst thing to happen to Superman since Bepo the Super Monkey.
I thought about opening a new thread for this but maybe multiple threads ain't necessary. This is
more
about the
new
DARK SHADOWS
film by
Tim Burton
than it is about Jonathan Frid. Nevertheless it's similar subject matter so I'll keep it here. Jonathan Frid
did
indeed have a cameo in the film but it only lasted a few seconds & was a non-speaking role. He was walking into the party that Depp-Barnabas was throwing I believe with a couple of women but I didn't get a good enough look at them due to being distracted by my wife. They may have been from the original TV series too but I was being slightly aggravated & not in a good way (she doesn't like such films).The party had
ALICE COOPER
as it's entertainment. And yes, I actually saw this in the theater Friday evening.
I may write
more
when it's not so late but suffice it to say, Depp
and
Burton
butchered
this franchise! It strayed so far from 'Dark Shadows canon' that it ain't even funny! I haven't really researched it yet but I recall reading online a while back that Johnny Depp actually
bought
the DS franchise from the estate of Dan Curtis, who was the producer for the TV series. Why? Because he
so
loved this series as a kid (so did I). And Tim Burton is also a self-professed DS junkie. So why did they do this to this franchise?!
Ya know how
THE MAN OF STEEL
is
not
following Donner but yet it's still very much Superman? Except for the trunks of course. But otherwise, very much Superman & quite possibly
very
much respectful to the canon that's come before it. Well, you can forget that with
this
film!
I'm not saying that it had to be a carbon copy of the TV series but c'mon! They changed
so
much stuff I probably don't even have the space to explain it all! And I'm aware that not everyone is a fan of this franchise so you might not have
any
idea what I'm talking about anyway. At least not without research.
A brief explanation of this film would be that the characters from the TV series were like
caricatures
here. And get this!
Jackie Earl Haley
is in this film & he's such a waste! I mean, I can't believe it!
He was an awesome RORSHACH!
Totally! But then he tried to take over Freddy Krueger from Robert Englund & well,
not
so good. But his 'Krueger' was like an Oscar performance compared to his portrayal of Barnabas' servant
WILLIE LOOMIS
! Don't believe me? Well, watch the film & then go online or DVDs or whatever & look at Willie in the TV series.
He was played by John Karlen, & man, the dude nailed it!
Quite possibly some of the best acting on the show. But Haley in the role?
Uhhhhh............Duhhhhhhhh!
And don't even get me started on the other characters, which I may come back to later anyway.
But one of my biggest complaints was the lack of the theme music!
I know, I know, for Superman I think we're
all
in agreement that it's time for a new heroic theme. But this ain't Superman. Dark Shadows is
so
synonymous with it's theme that they're inseparable IMHO. In
this
film? I didn't hear a
HINT
of it
anywhere
, not even a nod! And the music was by Danny Elfman, that is, what
wasn't
classic rock & pop from the early 70's. Alice was good though. But the real theme should've been present somewhere:
I actually own that album on both vinyl
and
CD. The first few seconds of that theme are what plays at the beginning of
every
episode of Dark Shadows & what people recognize. It was also composed by Robert Cobert & his music was pretty good overall on the program besides the main theme.
Now here's the 2012 Elfman version:
Does that sound
anything
alike to you?! In that 2nd vid though, I did just detect a
slight
nod to some of Cobert's
other
music on the show, right there at the tail end.
Now, am I
totally
bashing this film? No, not exactly. Let me put it this way. If you're a
TIM BURTON FAN
, you'll probably love it. Like
all
his films, his style is unmistakeable, the visuals, the elaborate sets, the works. For a 150 million budget it should, right? If you're
not
particularly a fan of this show, then you can probably watch it & be entertained 'for what it is', Tim Burton's latest. It works on
that
level. But my problem is that I'm
too
emotionally invested in the original source material & I find the changes to be appalling! Even the 1991 TV mini-series remake didn't deviate
this
far. It changed
some
things, yes, changes I didn't particularly like, but even it was like 'canon' compared to
this
story!
But what I found interesting is that we went to the 4:35 PM showing at a nearby theater & guess what? There were only
TWO PEOPLE
in attendance. Yep! My wife and I!
Except
for the annoying theater employee who wanted to mess with the curtains at the beginning of the film.
Unbelievable!


non_amos

Christopher Reeve





Posts

: 2305


Points

: 2717


User Reputation

: 250


Join date

: 2010-10-16



I haven't seen the film myself yet. But my mom saw it last night. And she too prior to seeing fikm didn't like the comedic tak they where doing. But she did say she liked the film. And isn't really a burton fan. But I do wonder why tim and johnny decided to go the way they did?

webhead2006

Missing In Action





Posts

: 4344


Points

: 4854


User Reputation

: 2


Join date

: 2010-10-16


Age

: 33



webhead2006 wrote:I haven't seen the film myself yet. But my mom saw it last night. And she too prior to seeing fikm didn't like the comedic tak they where doing. But she did say she liked the film. And isn't really a burton fan. But I do wonder why tim and johnny decided to go the way they did?
The thing is, the comedy really ain't that good. Here's the deal. You get
more
of the comedic take from the trailers & commercials but..........when you actually
watch
the film, think more along the lines of
SWEENEY TODD
or
SLEEPY HOLLOW
. Actually from what I remember Sweeney Todd was
more
humorous than this. But you may want to ask your Mom
why
she specifically liked this? It's OK for your typical Burton film but for
DARK SHADOWS
?!
That's
where I feel it comes up short but I'm not unbiased either.

non_amos

Christopher Reeve





Posts

: 2305


Points

: 2717


User Reputation

: 250


Join date

: 2010-10-16




---
Permissions in this forum:
You
cannot
reply to topics in this forum