http://www.comicbookmovie.com/fansites/Edwardo2K14/news/?a=102854
Man Of Steel was a film that split comic fans' opinions, and to this day people are still discussing whether it was a good film or not, as well as debating several controversial scenes that happened in the movie. On the Fat Man on Batman podcast with Kevin Smith, comic book artist Neal Adams shared his thoughts on Zack Snyder's Man Of Steel. He  talked about the infamous neck snap scene, "And then at the end, what did he do? He killed a guy. Can't put his hand over his eyes? I'm just saying…put your hand over his eyes. That would stop it pretty much. One arm is around the throat, put the other hand in front of his eyes. That's pretty much it. Take him off to the moon or Saudi Arabia or someplace, and finish the battle there."  He continued, "The other thing that they did too. I don't know…there's like a rivet in the back of what-his-name's head that makes his eyes not move like our eyes can move. Like there are people over there…all I have to do is go like that, and they're dead. Why are his eyes traveling the movement of his head."  He certainly raises a good point. Do you guys agree with him?

Neal then talked about the final battle involving Superman and Zod, emphasizing on location. He added," But why were they fighting in Metropolis? I don't understand…even the Kelvinator movies…I'm sorry I was just joking…the robot movies...Transformers movies, they went to Saudi Arabia to fight. They're knocking down the Sphinx and stuff, but they're not so many people. They're in the middle of nowhere. They could have gone on the moon, but as soon as Superman hits a building, it's going to fall down. Didn't we lose 500 people there? It feels weird." The destruction in the film sparked many debates and was heavily criticized by critics and fans alike, many feeling it was way too much, while others felt it was necessary to show the consequences of two Gods fighting. Does Neal make a valid point?

The artist wasn't too fond of Bryan Singer's Superman Returns either,  "You would think they would be super-sensitive with this movie, and not make those kinds of stupid mistakes. Because the previous movie [Superman Returns] had more Kryptonite than you could ever have and still Superman was alive. You had a whole island of Kryptonite, and then you had him go away for…I don't know…they said I think six of seven years, they said five years, but he comes back and the kid's…I don't know…twelve years old. He's got a bastard son. That changes the plot a whole lot. I don't understand where that came from. You would think after that movie they would be very careful about what they wrote so you would go, 'Ah, thank goodness, I'm fine with this now.' But no, it just made everybody more nervous, while Marvel is doing all these great movies."
The fuck is wrong with these comic book guys?? It was established MULTIPLE TIMES that the heat vision came from Kryptonian EYE SOCKETS, not the eyeball alone. How god damn STUPID do you have to be to not pick up on this?? And also, did this shit for brains not see the part where Faora's hand was on Superman's eye when he let loose a heat vision blast and she had to pull away before he burned a hole thru it? Jesus jumped-up Christ....
Oh, and Superman killed not only in 'Superman II', but III and IV as well. So let's stop pretending that 'MOS' did something totally against what we have seen on-screen before witht the character.
There was also some MIGHTY racist overtones to his "Take it to the Middle East and fuck THAT place up" repeated statements.....
On the other hand, Neal Adams is right on when it came to Singerman. Said pretty much what we have all said repeatedly.

_________________
BJ Routh and Bryan Singer WERE the worst thing to happen to Superman since Bepo the Super Monkey.
What I HOPE Adams meant by that was they could duke it out in the middle of the desert rather than Tel Aviv or Baghdad or something. But then, if that's what he meant, he could've just mentioned the Mojave desert and that would've been just fine. So hmm.

Bear in mind though, the guy's a fucking lunatic. He believes in that expanding Earth theory. I'm not geologist but my understanding is that only the kookiest fringest of the kook fringe even CONSIDER that. There are people out there who believe that petroleum is a naturally occurring resource and that whole "fossil fuel" angle is just a scam to build demand and artificially drive up prices... and they have more of a leg to stand on than the expanding Earth kooks.

thecolorsblend

Moderator





Posts

: 4257


Points

: 5802


User Reputation

: 287


Join date

: 2010-12-02



What's funny is, he is a COMIC BOOK ARTIST. People can go back and question why certain covers/interiors played out the way they did too.
Like this: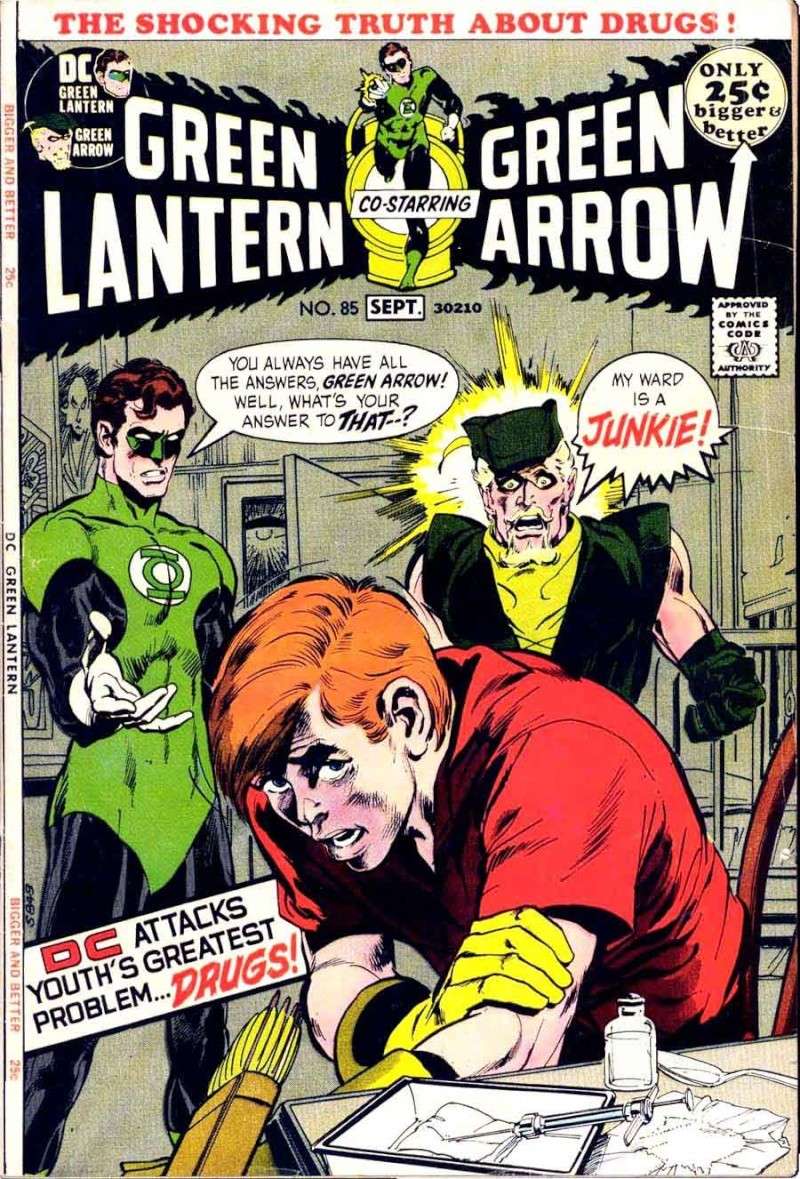 OMG!! Why isn't Green Lantern using his ring to transport Speedy to rehab,  or even JAIL, instead of standing there like a game show host "presenting" him to Green Arrow?? Neal Adams and sucks!! And why is Green Arrow standing there making obvious statements, instead of pulling out an arrow and blasting that heroin away?? God, the people who came up with, and completed, that cover are talentless HACKS!!!
See what I mean?

_________________
BJ Routh and Bryan Singer WERE the worst thing to happen to Superman since Bepo the Super Monkey.
And this is the same Neal Adams who contributed to the Batman comics '180' in the 70's? What kinda crap is this?! And you mean we've
still
got morons who think Supes should've been merciful to Zod? What about that family? Why is it that some so-called 'experts' just don't get it?! But what do you expect from that whole 'save the whales' crowd?  

non_amos

Christopher Reeve





Posts

: 2305


Points

: 2717


User Reputation

: 250


Join date

: 2010-10-16




---
Permissions in this forum:
You
cannot
reply to topics in this forum