I can't believe this hasn't been posted yet, at least not that I'm aware of, so here goes:
http://www.superherohype.com/news/295311-screenwriter-christopher-markus-on-captain-america-3s-showdown-with-batman-vs-superman#/slide/1

Screenwriter Christopher Markus on Captain America 3′s Showdown with Batman vs. Superman

Silas Lesnick Mar 14, 2014

The House of Ideas is taking on the Distinguished Competition in 2016. It was revealed yesterday that Marvel Studios will be releasing Anthony and Joe Russo's

Captain America 3

on May 6, 2016. That's the same day that Warner Bros. will unleash Zack Snyder's

Batman vs. Superman

. Will one of the comic book movies give up the date?

Cap

screenwriter Christopher Markus tells The Hollywood Reporter that he thinks one of them will.

"I think when two cars drive at each other,"

he explains,

"somebody has to veer off eventually… There's always a level of expectation and Marvel keeps raising the bar higher and higher. But you have confidence that they're going to make a good movie, you kind of let yourself go and allow yourself to be directed. And you really just become one small piece of the Marvel puzzle."

Marvel was actually the first studio to claim the date last summer, albeit as a placeholder for a then-unrevealed feature. Warner Bros. threw down the gauntlet seven months later, delaying the Snyder film from its original July 17, 2015 date (a calendar spot that was immediately snatched by Marvel for Edgar Wright's

Ant-Man

).

Even if Marvel does end up being the studio to back down, their confidence in

Captain America

as a franchise should boost interest in

Captain America: The Winter Soldier

, hitting theaters domestically April 4. It has been revealed that the new film sets the stage for

Avengers: Age of Ultron

which, depending on how the narrative goes, will likely set the stage for

Captain America 3

.

Markus will be returning for

Captain America 3

, which he says is already moving forward.

"We've had many, many conversations, and pretty much know where we're going,"

he tells the outlet.

Coincidentally, 2016 also marks the 20th anniversary of "DC vs Marvel," a four-issue company crossover during which contestants from both fictional universes where summoned and forced to do battle with only one universe allowed to triumph. Readers were allowed to vote in five main fights (Superman vs. Hulk, Wonder Woman vs. Storm, Lobo vs. Wolverine, Superboy vs. Spider-Man and, appropriately enough, Batman vs. Captain America). Although Batman and Superman each took down their opponent, Marvel won in every other match and emerged the overall victor. In a surprise move, however, neither universe was destroyed and both were instead merged to form "Amalgam Comics." DC and Marvel co-published 24 issues (12 in 1996 and 12 in 1997) in which their iconic heroes and villains were combined.

Although, it's pretty much a certainty that 2016's big screen showdown will not have a similar conclusion, you can relive the Amalgam age of comics with our gallery viewer below:
And then there's a slide-show of the Amalgam comics covers which you'll probably have to see at the link. But that's beside the point. The scoop here?
CAPTAIN AMERICA 3 GOING HEAD-TO-HEAD WITH FRIGGIN' BATMAN vs. SUPERMAN?!
  I mean, is this sane? Sure, the current Cap films look great, a far cry from the films of the past years but really? Go up against what's surely gonna be one of the biggest films of 2016? And it doesn't sound like Marvel is willing to back down from that date either. I think they expect WB/DC to make
that
move.
So who wins here? The fans do, certainly. Surely neither film will flop. But I expect anticipation for Bats & Supes to be
HIGH
! Cap 3 may be awesome but I just don't see how it can win.

non_amos

Christopher Reeve





Posts

: 2305


Points

: 2717


User Reputation

: 250


Join date

: 2010-10-16



That's kind of what I'm thinking. I've seen people argue that MOS II/WF/BvS is looking at a $100 million opening weekend based purely on the marquee appeal of the team-up. Unless Cap 2 seriously blows everybody away, odds are Marvel won't have much of anything to match that. WB's already moved MOS II once. Doing it again would be a bad idea.

Either Marvel reschedules Cap 3 or they'll go head to head. And everybody seems convinced MOS II will roll it over and never look back.

_________________
TCB's podcast- http://twotruefreaks.com/shows.php?show=32

thecolorsblend

Moderator





Posts

: 4257


Points

: 5802


User Reputation

: 287


Join date

: 2010-12-02



thecolorsblend wrote:


That's kind of what I'm thinking. I've seen people argue that MOS II/WF/BvS is looking at a $100 million opening weekend based purely on the marquee appeal of the team-up.
Coming back to this. This point alone is why Marvel shouldn't be willing to take on WB/DC head-on. I mean, fanboys have wanted a Batman/Superman film since I don't know when. And I think we
all
remember sitting in the theaters back in December 2007 & seeing this: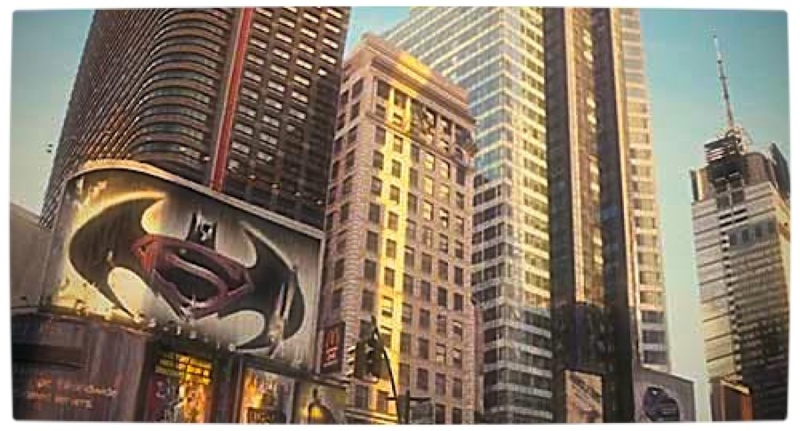 From
I AM LEGEND
of course but nevertheless that got me 'right here' as they'd say when I'm sitting there & saw that the first time! And remember, at that point we had Bale 'killing it' as Batman while simultaneously we had BJ the Bartender just
killing
Superman.  

Nevertheless neither Bale or BJ killed fans' enthusiasm for a team-up project. From what I remember a few years back Bale & BJ even appeared somewhere together & the possibility was brought up. Thankfully we never got
that
. But let's face it, this team-up is
highly
desirable! It was
before
Bale/BJ, it still is even long
after
them.
Henry Cavill has proven himself a worth successor to Reeve with a take that he can call
his own
unlike BJ. Ben Affleck, in spite of Internet outrage, will no doubt silence the critics with a take he can call
his own
. But let's face it, this film without a doubt transcends
any
particular actor or director. It's like
KING KONG vs. GODZILLA
,
FREDDY vs. JASON
,
ALIEN vs. PREDATOR
to comics fans with one major difference. It'll outsell
all
of them many times over! But you get the point? This team-up would be wanted regardless of
who
was actually in the suit(s). It's one reason Marvel dare
not
take them on!
Unless Cap 2 seriously blows everybody away, odds are Marvel won't have much of anything to match that.
See previous paragraphs. I just wonder what Marvel is gonna try to come up with here to even stand a chance? Guest appearance by
all
the Avengers or something? Even a guest appearance by Iron Man? No clue at this point.
This is going to be 'velly' interesting indeed.

non_amos

Christopher Reeve





Posts

: 2305


Points

: 2717


User Reputation

: 250


Join date

: 2010-10-16





Similar topics
---
Permissions in this forum:
You
cannot
reply to topics in this forum